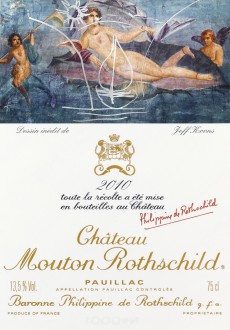 After a first initiative, ahead of its time, with the poster artist Jean Carlu in 1924, Baron Philippe de Rothschild waited until 1945 to finally establish a tradition that would henceforth become the visual hallmark of Mouton Rothschild.
From one label to another, Mouton Rothschild has thus brought together some of the most celebrated artists of their day, including Miró, Chagall, Braque, Picasso, Tàpies, Francis Bacon, Dali, Balthus, Jeff Koons, Francis Bacon, Keith Haring and even Prince Charles, the Prince of Wales.
Another French wine producer, Taittinger, dedicated to a great artist an entire line of of champagne: The Rauschenberg Collection.
It is a beautiful and practical way to create coexistence between art and wine.