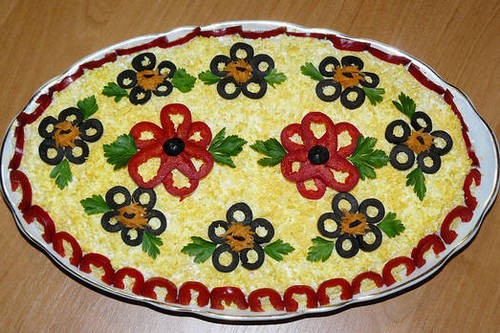 In the nineteenth century a host of books was published on the subject of the use of the remains in the kitchen. Their content would be useful today to many, especially in the US, where there is a costume that scandalizes the Europeans: the "doggy bag", the remains of a lunch or dinner taken away from the restaurant. Irreverent habit for a European, but that does not offend anyone in the United States.
Well, after the Christmas holidays, there are many remains in the fridge: it is as if we were facing a mountain of "doggy bags".
So, do not let there these goodies, but learn the art of using them, offering them a second life.
Today we talk about a recipe of easy  to do, good and beautiful. This is the tasty "salade de boeuf", dish in vogue in the nineteenth century on the French tables, but also in some countries basically Francophiles, such as Romania. Although the name indicates the beef as meat base, you can prepare it very well with the turkey (or alternatively with the chicken). It keeps in the refrigerator a week and it's better from the second day of its preparation.
Here is the recipe. First of all, you prepare a good mayonnaise, better if you do it yourself (but the one bought on the market can work too). To make a good mayonnaise, I give you my recipe, extremely simple. Put an egg, a teaspoon of mustard, one tablespoon of lemon juice squeezed at the moment and a bit of salt in a large and deep glass. Add a small glass of sunflower oil (not olive oil, remember). Use an immersion blender to blend at maximum speed. After a minute and a half, maybe two, you'll have a tasty, firm mayonnaise. If you want a bigger amount, add another egg, but the processing time will be longer: considered a half minutes per egg.
In a large casserole, boil in salted water: potatoes, carrots and parsnips. Leave them to cool, then drain and cut them into small cubes of half a centimeter per side. Similarly cut pickled cucumbers and red peppers. Drain. Cut also the cold turkey (take off the skin). The amount of meat, boiled vegetables and pickles must be equal to each other, in order to give balance to the dish. Put everything in a bowl, pour the mayonnaise and a tablespoon of mustard for every egg of mayonnaise. Mix well, add salt if necessary and put the salad in the fridge. At the time of serving, you can decorate it with mayonnaise, sliced ​​hard-boiled egg, strips of pickles and olives: give space to your creativity.
The ideal beverage to accompany this delicious salad is a cold glass of Prosecco, but also a dry white wine  (Chablis, Chardonnay Veneto) or a red light (Grignolino, Beaujolais nouveau, Cotes du Rhone).
Bon appétit!
Readings that I recommend (if you read French): L'Art d'accommoder les restes dédié aux petites fortunes par un gastronome émérite. Paris. Hachette et Cie. 1870. Auteur anonyme. On sale at the bookshop Librairie Scripta Manent in Monte-Carlo for 98 € (plus the cost of shipping). Orders at:
Summary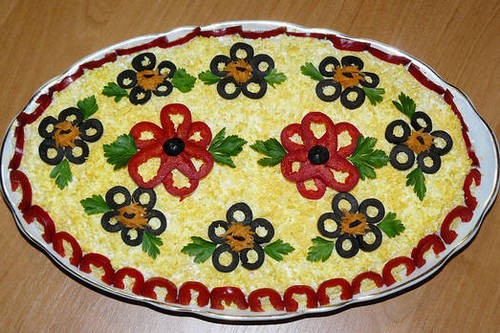 Recipe Name
Published On
Preparation Time
Average Rating
Based on 1 Review(s)