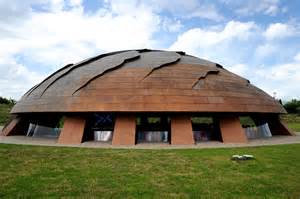 Cellar "Tortoise shell": A dialogue between nature, art and wine. A journey into a work of art related to the wine, authored by Arnaldo Pomodoro
During the summer wanderings, if you visit Italy, don't skip Umbria, and pop in Montefalco: it's worth it. You can visit a singular winery, that is unique. It will be an opportunity to buy a few bottles of Sagrantino di Montefalco, an extraordinary wine that supports aging.
Tenuta Castelbuono, 30 hectares in the municipalities of Bevagna and Montefalco, is part of the ambitious project of the Lunelli family, three generations at the helm of the Cantine Ferrari.
The Lunellis created some preminent wine estates in Italy and they share with Ferrari the passion for excellence and a strong relationship with the territory.
Fascinated by an ancient and mystical place as Umbria and a wine of great power and longevity such as the Sagrantino, the Lunelli family acquired the land in 2001. The first efforts were turned to the vineyards, with new facilities and upgrading of the existing ones, now all in conversion to organic. In 2003 they focused on the production of the Sagrantino wine, which was followed, a year later, by the Montefalco Rosso.
The "Carapace" (thet means tortoise shell) – the name of the winery – has been made by one of the greatest contemporary artists, Arnaldo Pomodoro, and is a unique achievement, the first sculpture in the world in which people live and work.
By virtue of an old and solid friendship with Arnaldo Pomodoro, the Lunelli family proposed him to design a new winery. The Maestro, whose works stand out in the most important sites of the world, accepted with enthusiasm to challenge the boundaries between sculpture and architecture, and after the first inspection, had already imagined the project. "I had the idea of ​​a shape that resembles to a turtle – tells Tomato – a symbol of stability and longevity, with its carapace, represents the union between earth and sky."
The winery itself looks like a big dome covered with copper, engraved on the outside with cracks that resemble the furrows of the earth and internally by the signs that are unmistakable artistic figure of Arnaldo Pomodoro. A sculptural element in the shape of red dart sticking in the ground emphasizes this work well rooted in the landscape.
It thus enhances the invaluable artistic heritage of Umbria, and offers a new place where the original dialogue between art, wine and nature contributes to the enhancement of the extraordinary that is the Sagrantino grape, a wine linked, like few others, inseparably to its territory.
Tenuta Castelbuono – Cantina "Carapace" 
Vocabolo Castellaccio, 9
06031 Bevagna (PG), Italia 
Phone: +39 0742 361670