Maurizio Cattelan, a very quoted artist will expose at Frieze in New York a donkey. Alive.
I still remember the shameful "artwork" exposed some years ago somewhere in Europe, in an "art" gallery.  A poor dog, alive, that died after some days, without food and water, exposed there, by an "artist".
Are these people human? Considering their deeds, no. They take themselves for God. Because the dog and the donkey, are not their creations, but creatures of God.
I'm ashamed for you, Cattelan. Vergogna! I thought you were an accomplished artist.
I'm a patron of the arts (of real arts) and I feel sorry for you. Why didn't you create something by yourself? Is your inspiration dried up? Finita? That is why you exposed the donkey. Why are you not charitable and respectful and protective with an innocent animal?
Who will buy this artwork? Let's hope, that will be a farmer!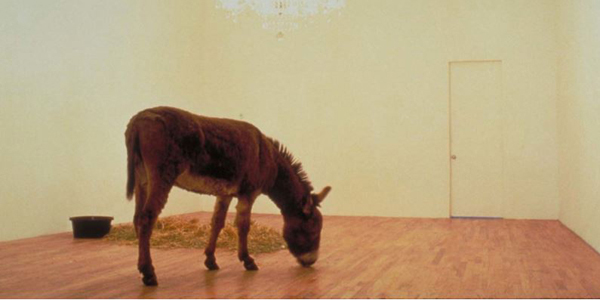 Maurizio Cattelan, Warning! Enter at your own risk. Do not touch, do not feed, no smoking, no photographs, no dogs, thank you (1994).
Image: www.perrotin.com.